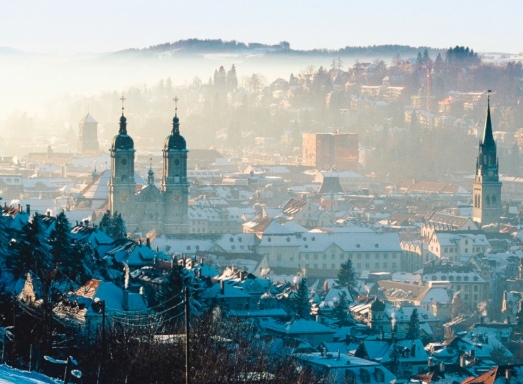 Where is St Gallen ? You will probably ask yourself if you are looking for good Universities in Switzerland or the famous abbey. Otherwise the city isn't so well known but absolutely worth seeing.
St Gallen is located in eastern Switzerland and is only about 15 minutes from the Swiss side of Lake Constance. St Gallen can be easily reached from Austria as well as from the German border from Constance. In addition, a car ferry crosses the Bodensee several times a day from Friedrichshafen to Romanshorn. From there it takes about 20 minutes to get to the city.
Where is St Gallen is very often linked to the question about the famous abbey
In 1755 Prince Abbot Cölestin Gugger von Staudach ordered the construction of today's baroque cathedral. The Abbey District of St.Gallen was declared a World Heritage Site by UNESCO in 1983. The present library room of the Stiftsbibliothek (library) was built in 1758/67. It is considered the most beautiful profane rococo hall in Switzerland and comprises more than 150,000 volumes. The library's unique collection of early medieval manuscripts, in particular, is of worldwide importance and immeasurable value.
Nice bars and many students
St Gallen is also a beautiful city for strolling and in winter there is a very beautiful Christmas market here. The city is home to one of the world's most renowned universities. The HSG has made a name for itself especially in the field of economics. Due to the large number of students, St Gallen has a large number of pubs and bars, and nightlife is quite respectable.
St. Gallen is worth a visit and has more to offer than one might expect.