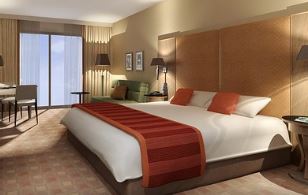 Bodensee hotel and accommodation can be found with search platforms. Ratings give information about the quality of the stay experience. I have provided a search form for one of the best-known platforms (booking.com). In addition, the attached list contains a small selection of popular hotels at and near the Bodensee Germany (no claim to completeness and no guarantee for the accommodation experience). On the Bodensee Map you can see which sights are nearby.
Bodensee Hotel Eriskirch
ERISKIRCH – Hotel Garni Landhaus Vier Jahreszeiten
Beautiful location in the countryside, rooms from 38 € including breakfast, rental bikes for bike tours.
Bodensee Hotel Friedrichshafen
FRIEDRICHSHAFEN – Hotel Goldener Hirsch
The hotel is located in the centre of the city, only 5 minutes walk from the lakeside promenade and railway station.
FRIEDRICHSHAFEN – Hotel Zeppelin ***
The charming private hotel welcomes you with friendly staff and personal flair.
Bodensee Hotel Hagnau 
HAGNAU – Ferienhaus Weinberghof
Idyllic with a fantastic view of Lake Constance and the Alpine panorama. All rooms have a beautiful large balcony, shower, WC, SAT-TV, refrigerator.
Bodensee Hotel Immenstaad
IMMENSTAAD – Hotel Adler
Family run hotel with restaurant – rooms with shower, WC, TV, telephone, hairdryer and W-LAN and partly with balcony.
Bodensee Hotel Konstanz
KONSTANZ – Allensbach – VCH-Hotel "Haus St. Elisabeth" ***
Modern three star holiday and conference centre,
Situated in a magnificent landscape on Lake Constance.
KONSTANZ – Steigenberger Inselhotel Konstanz *****
Located on a small private island in front of the old town and housed in a former 13th century Dominican monastery, it offers the visitor the charm of something special. Over a bridge you reach in a few minutes the winding alleys of the romantic old town.
KONSTANZ – Hotel Villa Barleben
One of the most beautiful hotels on Lake Constance, located directly on the Konstanzer Uferpromenade, with a beautiful, large garden, with an incomparable view of Lake Constance and the magnificent Alpine panorama.
Bodensee Hotel Kressbronn
KRESSBRONN – Gohren – Yachthotel Schattmaier
Conference, meeting and seminar rooms; comfortable rooms in a quiet location directly on the water, lake view; bistro with bar and harbour terrace; private beach; water sports and leisure facilities.
KRESSBRONN – Hotel Friesinger
Central location in Kressbronn, just a few minutes' walk from the lake shore, with good transport connections, nestled between 100-year-old trees.
Bodensee Hotel Langenargen
LANGENARGEN – Gohren – Yachthotel Schattmaier
Conference, meeting and seminar rooms; comfortable rooms in a quiet location directly on the water, lake view; bistro with bar and harbour terrace; private beach; water sports and leisure facilities.
LANGENARGEN – Hotel Klett
Directly on the shore of Lake Constance, opposite the shore promenade and close to the landing stage.
Modern and comfortable guest rooms with shower/WC and colour TV, hairdryer, some with balcony and lake view.
LANGENARGEN – Hotel Meschenmoser
Only 30m away from one of the most beautiful promenades at the lake.
Bodensee Hotel Lindau
LINDAU – Hotel Parkhotel Lindau
The Parkhotel Lindau is located in the quiet district of Bad Schachen, only 3 minutes from the lake. The centre of Lindau is 10 minutes away and the Bregenzer Festspielbühne is just 15 minutes away. Business guests can reach the trade fair centre and Friedrichshafen airport in 20 minutes thanks to excellent connections. For leisure guests, the Bodensee cycle path leads directly past the hotel, the Lindenhof seaside resort is below the hotel and many other sights can be reached in no time.
LINDAU – Landhotel Martinsmühle
Traditional family business with cosy rooms and hand-painted farm furniture.
Bodensee Hotel Meersburg
MEERSBURG – Hotel Landhaus am Weinberg Garni
Pure non-smoking hotel. Hotel is situated in an ideal holiday landscape, with a view of Lake Constance.
Bodensee Hotel Nonnenhorn
NONNENHORN – Hotel zum Torkel
All guest rooms are comfortably furnished, have shower or bath, WC, direct dial telephone, satellite TV, and some have a balcony or terrace.
NONNENHORN – Haus am See (Hotel / Restaurant / Cafe) ***
Located directly on the shores of Lake Constance with alpine views, garden terrace, sunbathing lawn with its own beach.
Bodensee Hotel Radolfzell 
RADOLFZELL – Hotel Artvilla
On the Mettnau peninsula in Radolfzell on Lake Constance, in an absolutely quiet location, on the Kurpark near the lake.
RADOLFZELL – Hotel Iris am See
Almost all rooms have a unique lake view!
Bodensee Hotel Salemer Tal
SALEM – Gesundheitshotel Haus Sonnenstein
The small hotel is situated on the southern slope of the idyllic Salem Valley and is characterised by its particularly beautiful and quiet location on the outskirts of the village. From the house you have a wonderful view into the valley. Cycling and hiking is possible directly from the hotel.
Bodensee Hotel Singen
SINGEN – Hotel Hegauhaus
The Hotel is located on the south side of the Tannenberg, in the immediate vicinity of the town of Singen. In the centre of the holiday region Lake Constance – Black Forest – Switzerland.
SINGEN – Hotel Jägerhaus
Family owned hotel with great restaurant.
Bodensee Hotel Tettnang
TETTNANG – Hotel Bären
Central location in the heart of Hopfenstadt, very good traffic connections and shopping facilities. The rooms (45 beds) are equipped with shower, WC, TV, telephone and WLAN.
TETTNANG – Hotel Stephans Albergo
Several single rooms, double rooms and apartments and a directly adjacent pizzeria in a traffic-calmed district of Tettnang.
Bodensee Hotel Überlingen
ÜBERLINGEN – Hotel Garni Wiestor
Small family owned hotel.
ÜBERLINGEN – Hotel Ochsen ***
Traditional hotel with nice atmosphere.
Bodensee Hotel Wasserburg
WASSERBURG – Hotel Lipprandt
Nice, traditional hotel in country house style.
WASSERBURG – Hotel Seestern
All rooms Sat-TV (incl. Premiere), telephone, safe, shower or bath, WC. Mostly with balcony and terrace, with view to the peninsula (lake and mountains) or to the garden.
WASSERBURG – Hotel Walserhof
Open all year, quiet central location, indoor swimming pool with whirlpool, sauna, solarium, lift, rooms with balcony or roof garden, large terrace, television, telephone, rich breakfast buffet, five minutes walk to the lake.