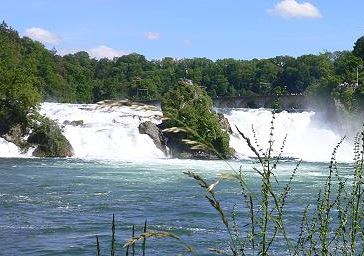 Rhine Falls , Schaffhausen  and Stein am Rhein are obligatory places to visit when visiting Bodensee Germany. Especially Schaffhausen with the Rhine Falls is spectacular. The waterfalls are considered the largest  in Europe. The area is beautiful, the vineyards on the banks of the Rhine tempt you to extensive hikes and is also oriented towards family-friendly tourism.
I would recommend the short hike from the castle Laufen. The castle offers an impressive view of the Rhine Falls. The way down to the Rhine leads over stairs and through a tunnel to various viewing platforms to the landing stage.
The rhine falls offer wonderful nature and a lot of variety.
The rock in the Rhine can be reached and climbed by boat. Or you can simply be taken to the other side of the Rhine to Wörth Castle, from where a walk along the banks of the Rhine and over the railway bridge takes you back to the starting point. Europe's largest waterfall offers an impressive natural spectacle. The average flow rate is 750 cubic metres per second.  At a width of 150 m, the Rhine (coming from Lake Constance) falls from a height of 23 m over the rocks.
Schaffhausen and Stein am Rhein should not be missed either.
Schaffhausen is also worth a visit. The Münster Allerheiligen, the Museum zu Allerheiligen, medieval alleys and squares, town houses invite you to explore the city.
The town of Stein am Rhein is about 20 km from Schaffhausen. A stroll along the Rhine and through the medieval alleys to the town hall square with its painted facades is also worthwhile.
Every year the Rheinfall attracts many thousands of tourists. People from all over the world come to see the nature. The Rhinefall must not be missed when visiting the region.