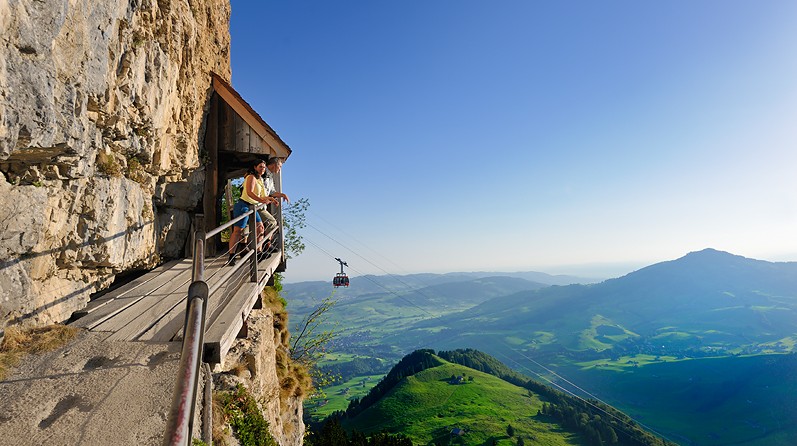 Appenzell Switzerland offers many impressions you would expect from switzerland. Mountains, nature, good food, friendliness. One of the absolute highlights in the region is the hike to Ebenalp. Here you can find a true feeling for the Swiss mountains.
The starting and finishing point of the hike is the valley station of the Ebenalp aerial cableway. Right next to the station there are two large parking spaces where you can park free of charge.
A wide hiking trail leads steadily uphill from the valley station along the Schwendibach stream towards Seealpsee. The route is popular and accordingly well frequented. The hikers are equipped with good footwear and carry provisions with them. Most foreign tourists and school classes take the more comfortable route by cable car directly to Ebenalp. After an hour's walk you can see Seealpsee – in the background the mountain panorama of the Alpstein.
Relax at Seealpsee, true Appenzell Switzerland feeling
The terraces of the mountain guesthouses Trout and Seealp invite you to take a first break. The restaurants are open until 1 November. From Seealpsee the trail continues on to Altenalp. During a short but very steep section of the trail, fitness is needed. 200 meters of altitude difference are to be overcome on short distance – only something for fit hikers. The effort is worth it – the hiker has a wonderful view over the Seealpsee. True Appenzell Switzerland feeling.
The route continues towards Füessler at 1555 metres above sea level. After 20 minutes you reach the mountain guesthouse Äscher at 1454 metres above sea level. As early as 1800, the hermits and alpine dairymen began to sell simple drinks and food on the Äscher Alp. Today, the cosy restaurant is known above all for its excellent Rösti. It's worth making a reservation.
Spectacular views of the Appenzell Switzerland countryside
The Wildkirchli is only a short distance behind the Berghaus Äscher. In 1904 the St.Gallen scientist Emil Bächler (1868-1950) found prehistoric finds of cavemen such as worked stones, tools and bones in the three caves. Proof that Neanderthals must have lived in the Alpstein between 50000 and 30000 BC.
The Ebenalp can be reached within a few hundred metres. The view is rewarding for the 41⁄-hour walk. The expansive Ebenalp plateau offers a wonderful panoramic view of the Appenzell, Sanktgall and Thurgau hills, the wide Lake Constance region and the picturesque panorama of the Alpstein chain to the west and south.