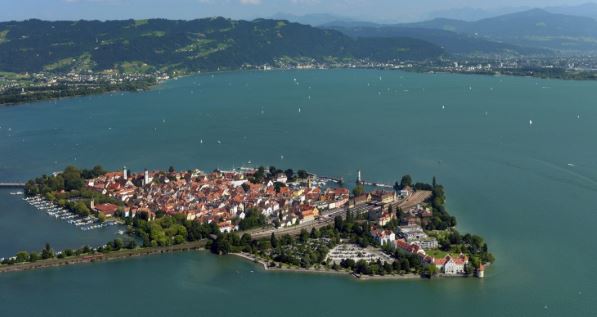 Lindau Germany invites you to discove its numerous, beautiful, historic buildings, the excellently preserved medieval old town on the island, and the famous harbour entrance. A walk at the harbour with the mountains in the background is great. The island town of Lindau Germany at Bodensee-Germany is connected to the districts on the mainland, by a bridge and the railway embankment.
Lindau Germany weather and sightseeing
Whatever the weather, anyone interested in culture and good food will always feel at home in Lindau.
The island is one of the most beautiful places on Lake Constance with many beautiful spots and historical sights. In addition to the harbour entrance, Lindau's main railway station, the Gothic town hall and the cathedral are among the most famous attractions.
If you want to explore the island and Lake Constance by boat, you can rent motor boats without a licence. You can also rent pedal boats or rowing boats. In the Bodensee Yachtschule Lindau day trips or sunset trips on large sailing yachts are offered.
The nearest airport, friedrichshafen, is about half an hour away. Various airlines land in Friedrichshafen, and the Lufthansa also flies to Friedrichshafen with a flight from Frankfurt.