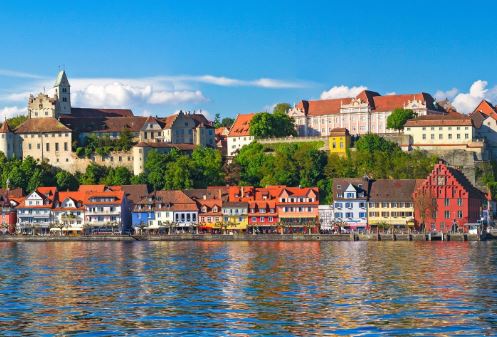 Constance Germany the largest city on Lake Constance is unusually interesting simply because of its special geographical location at the outflow of the Rhine from Lake Constance and the border to Switzerland close to the city centre. However, Constance has become a tourist attraction above all because of its very well preserved old town with architectural monuments and the many completely preserved medieval alleys. In addition, several houses decorated with elaborate façade paintings and the beautifully decorated promenade along the Seestraße with its noble Gründerzeit buildings are particularly attractive..
Constance Germany weather – beautiful at any time of the year
The town, which was named after the Roman Emperor Flavius Valerius Constantius Chlorus (305/306) presents itself as a particularly cosmopolitan city. Due to the university, Constanz is a lively and young city. Although the neighbouring Swiss town of Kreuzlingen has grown very close to Constance on the one hand, a border fence separates the two towns from each other on the other.
Konstanz is a rather cozy place. Students live in the districts of Fürstenberg and Wollmatingen north of the Rhine. They are close to the campus and yet close to the city centre. Within the city, you can quickly get around on foot. For the way to the university you better buy a used bicycle.
At the "Strandbar" on the Rhine you can relax or meet friends at any time of the day. If there's no room in the deckchair, just have a drink and sit on the shore. Near the harbour, "Steg 4" or the kiosk at the Stadtgarten are worthwhile.
In the old town "Pano" offers very tasty ice cream, coffee and snacks. The "Café Zeitlos" is a popular meeting place for students. A cosy and original café for lunch is "Das Voglhaus" in the old town. Next door there is also a small shop.
In the evening you sit in the "Seekuh" very nicely in the beer garden. Cheap cocktails are to be found in "Die schwarze Katz". There are clubs for dancing only in the industrial area. In the "Kantine" and in the "Kula" sometimes concerts are played.
You simply have to see constance when you visit Bodensee-Germany.