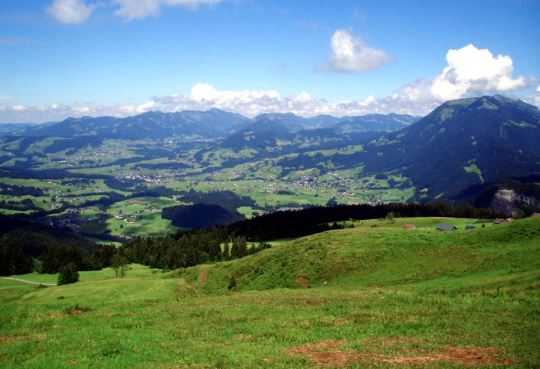 Hochälpele is one of the most outstanding viewpoints above the Rhine Valley, the hike there offers views from Lake Constance to the Bregenzerwald.
A few meters below the highest point is the Hochälpele hut, so that there is also an ideal place to stop for refreshments. Arrived at the crest the view openes to the east up to the Widderstein. On the north or south side you climbe up to the Hochälpelehütte.
The trip to the alp should not be started from Dornbirn, but from a higher point. With the car one can drive comfortably up to Kehlegg, which lies north of the Rappenlochschlucht on a railing ridge.
A short stop to the Hochälpele on the Schwendealp
On the way to Hochalpelekopf you pass Schwendekopf. The Alpe Schwende lies at 1,000 metres above sea level above Dornbirn and is a well-known stopover that offers a beautiful view of the lower Rhine Valley. For the tour one should have a good basic fitness, as one needs approx. 3,5 h for the ascent and descent. Approximately 500 height meters have to be managed.
A great tour, I've done many times on weekends.